30 September 2021
We can now see the timetable for the Plenary sessions, and those available on livestreams are noted. (Remember to take 3 hours off the time shown for DST) (Enlarge copy HERE)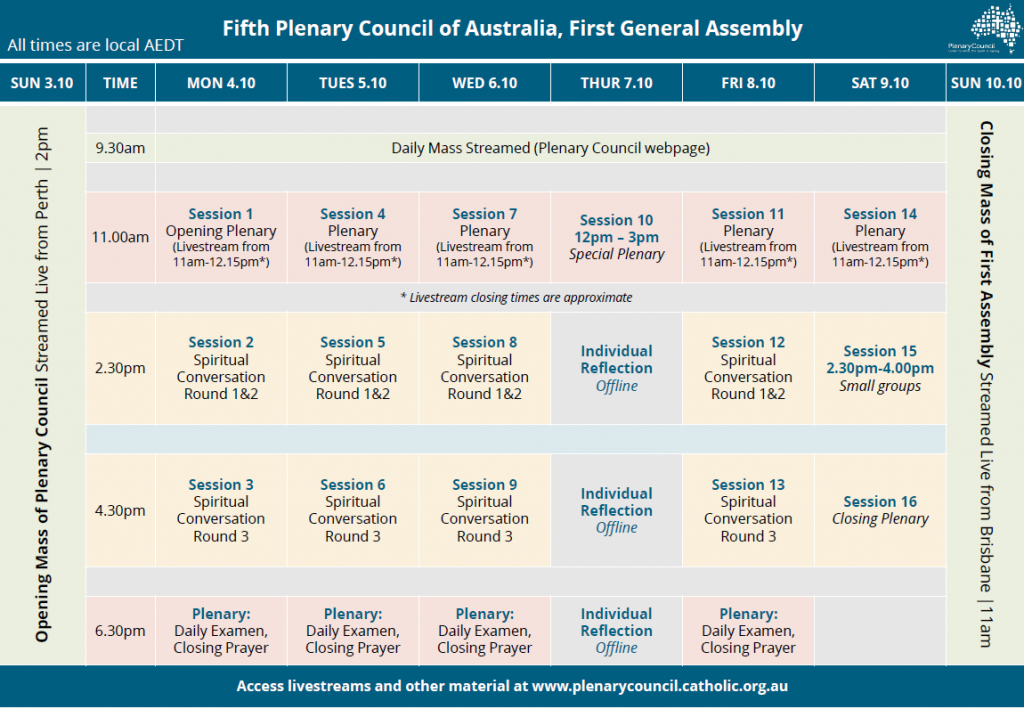 28 September 2021
My apologies for the long hiatus in reports regarding the most important event in the Australian Catholic church ever.
We are in the final week of preparation for Assembly 1, which commences with mass on Sunday 3 October and continues throughout the week, with a closing mass in Brisbane on Sunday 10 October.
The first of the Plenary Council will, due to Covid restrictions, be virtual, with all 278 Members meeting via Zoom. The Agenda for the Assembly is published and can be found HERE. Stepping past the 17,500 submissions received, it asks sixteen general questions which Members can take as starting points for discussion while they themselves have previously been taken through the submissions and the intermediate working document in their formation training.
In the event, Covid will have a great benefit in that because parts of the sessions are online, they will be accessible by all Catholics which is a amazing blessing. Simply, go to the Plenary Council Assembly 1 website and Register yourself. You will receive an email with the Zoom link. At the scheduled time set out below (and allowing for a three hour time delay from October 3) open the link and observe proceedings. Masses and prayers throughout the Assemble will be livestreamed. Start with the Opening Mass by Archbishop Costelloe in Perth cathedral at 11.00 WST.
There will be valuable independent daily reports delivered at 4.30pm WST and you can register for these at Plenary Tracker at the LINK here.
Follow the Plenary Council assembly online
With the Fifth Plenary Council of Australia being an event for the whole Church, parts of the first general assembly will be livestreamed each day. The home page of the Plenary Council website will be the place to go to find the livestream each day.
Here are some highlights from the livestream schedule:
October 3: Opening Mass of the Fifth Plenary Council of Australia, 2pm AEDT from St Mary's Cathedral in Perth.
October 4-9: Daily Mass broadcast at 9.30am AEDT and on demand afterwards.
October 4-6 and October 8-9: Plenary session livestream starts at 11am AEDT and runs until approximately 12.15pm AEDT.
October 7: Plenary session livestream starts at 12 noon AEDT and runs until approximately 12.45pm AEDT.
October 10: Closing Mass of the First General Assembly, 11am AEDT from St Stephen's Cathedral, Brisbane.
At the Plenary Council Assembly 1 website, there are also documentary resources and more importantly Prayer Resources. These will be vital for all Catholics to pray for wise counsel, open hearts and divine inspiration which results in a God-given future direction for the Church in Australia.
**************************************************************************************************************
28 March 2020
Plenty has happened since the last posting (sorry!). This week the national committee has released the names of all delegates to make up the Australian Plenary Council 2020.  Canon Law specifies delegates who must attend (Bishops and specific clerics) and others who may attend, who must be less that half of those who must attend.
For the Perth local church (archdiocese), there will be seven clerical delegates 'ex officio' and four lay delegates. They lay members will be Mr Damian Walsh, director of The Shopfront, Maylands; Dr Angela McCarthy, theologian of Notre Dame University; Dr Marco Cecarelli, director of the Centre for Faith Enrichment, and Miss Emily Hardbottle, diocesan contact for Young Christian Students (YCS). The delegates will be given training and formation prior to the first session of the Plenary Council meeting in Adelaide, 4 – 11 October 2020.
The complete list for Perth is
Most Reverend Timothy John Costelloe SDB DD
Very Reverend Peter Gerrard Whitely VG
Mr Damian Anthony Walsh (director The Shopfront, Maylands)
Dr Angela Mary McCarthy (theologian at Notre Dame University
Dr Marco Ceccarelli (director of the Centre for Faith Enrichment)
Miss Emily Jane Hardbottle (diocesan contact for Young Christian Students YCS)
Most Reverend Donald George Sproxton DD
Reverend Brian John Mckenna EV
Reverend Vincent Glynn EV
Reverend Michael Thomas moore SM
Reverend Phillip Fleay
Professor Francis Campbell (Vice Chancellor, Notre Dame Australia University)
The draft agenda documents will be circulated shortly and further comments on them will be accepted.
2 December 2018
The Second Parish Listening and Dialogue session was held on Wednesday 28 November in the Parish Centre. Ten attendees came together under the Holy Spirit to consider What God is Asking of Us in Australia at this time. The fruit of the reflection and discussion will be assembled and submitted to the on-line website. Thanks to everyone involved, and thanks for the pizza which was well received.
19 November 2018
The collected comments of the first Parish Listening and Dialogue session can be referred to HERE
12 November 2018
Attention was drawn to a reflection by Fr Greg Burke OCD, parish priest of the parish of the Infant Jesus, Morley, in their parish Bulletin.
With the permission of Fr Greg, the reflection is reprinted here below.
PLENARY COUNCIL 2020
During November we will focus our response to the Australian Plenary Council. As Archbishop Costelloe has made clear, "At the heart of the Plenary Council is the call to prayerfully discern what it is that God is asking of us.". We live not just in an era of change but in a change of era. Strategies and ways of being church that worked well for generations are no longer successful. The percentage of our young people who come to church is very small indeed. As well, we live in a multicultural, secular society where those with no religion are now the largest group. So, our bishops have invited us to discern the signs of the times, to listen anew to the Spirit and to chart our course into the future. This is a call to personal renewal but also ecclesial reform of structures. These are some issues that come to mind:
What has been your experience of the Church? N what ways has it been positive? And in what respects has it been negative?
Do you have any hopes or dreams of what the church might be?
How can we effectively witness to our faith in a secular society? What priority should we give to being missionary disciples making disciples?
Can we bring people to an encounter with Christ which is life changing?
Can our liturgies help people to grow in faith? Does the new translation of the Mass help or hinder us? Are the prayers, for example, easy to understand?
What lessons Have we learned from the Royal Commission on Institutional responses to Child Sexual Abuse? How does the Church have to change?
Pope Francis speaks of all the members of the church 'travelling together', listening to one another and discerning the way forward. So that what we are called to do for this Plenary Council should be the normal way of our being the Church at every level. If you like theology, then see the recent document on Synodality by the International Theological Commission: http://www.vatican.va/roman_curia/congregations/cfaith/cti_documents/rev_cti_20180302_sinodalita_en.html
What are suitable structures of communion and synodality in every parish and diocese and at the national level for the Church in Australia? Should, for example, bishops be accountable to their people and clergy for their decisions and priorities? Should bishops seek counsel through a Diocesan Pastoral Council (Code of Canon Law: n511)? Should there be a National Catholic Pastoral Council made up of priests, bishops and lay people?
Given that the ancient Eastern Churches have always had married clergy and given our present shortage of priests should we be open to the ordination to the priesthood of married men? If so, why? If no, why not?
The question of the ordination of women to the diaconate is presently an open question. Would you welcome women deacons?
Blessings, Fr Greg Burke OCD. Infant Jesus Parish. Morley.
Parish Newsletter. 28 October 2018. p2
9 November 2018
Some 20 parishioners participated in the first Parish Listening and Dialogue session. They formed into three tables and commenced with a prayer for God to bless the discussions.
Each person quietly reflected on their response to the signature question: "What do I think that God is asking of us in Australia at this time?" All of their thoughts were tabled and explained, and the table then selected what would be the key issue for further consideration.
Again, everyone had a quiet reflection on the key Issue, looking at it based on their personal experience of their Life, their Faith Life and their Church Life, both positive and negative. These experiences were shared at the tables, and a scribe collected the main aspects of the experiences and the subsequent discussion.
The session concluded with a prayer and the gathering of notes and scribes' recordings for forming into a Parish submission to the on-line Plenary Council 2020 website.  When completed, this will be posted on this website for any individual supplementary comments.
3 October 2018
An Information Night was attended by 40 on the evening of Friday 13 September.
There were two video presentations shown from Archbishop Mark Coleridge and from Lana Turvey-Collins, the National Facilitator for PC2020. Both stressed that a successful Council requires input from as many as possible, and that all submissions would be carefully read and combined to make up the agenda for the Bishops to address in October 2020.
Highlight of the night was a presentation and discussion with parishioner Maria Harries based on her experience with the Truth, Justice and Healing Council at the Royal Commission into Institutional Response to Child Sexual Abuse, and then with her part of the Rome Synod on the Family in 2015. She thought that some Australian Bishops would find the Plenary Council 2020 very difficult as it would challenge many of their attitudes, and therefore it was so important that lay Catholics spoke up clearly and became part of the Council.
Some Notes taken on the night are available HERE
The night was a special gathering of parishioners, who each brought wonderful food to share. There were extensive and excited conversations everywhere in the room. The Holy Spirit was was us then, and will accompany the parish of St Aloysius in our Listening and Dialogue sessions.
Pope Francis has approved the holding of a Plenary Council as requested by the Catholic Bishops of Australia.  This will gather those from the full spectrum of Catholic activity in Australia, and some from outside the Catholic sphere. Principally, the Plenary Council will consider the current situation of the Catholic Church in Australia, and seek to discern the Holy Spirit's direction for the Church to take into the future. A Plenary Council has authority, with the Pope's ratification,  to make binding decisions for all Catholics in Australia.
A program of listening will be launched at Pentecost 2018, and all Catholics invited to submit comments, suggestions and recommendations. These will be considered and formed into an agenda for the Council to address in their first meeting, October 2020. Our parish will hold information and sharing sessions, and these will be announced beforehand.
A website has been created to keep everyone informed, and this is http://plenarycouncil.catholic.org.au , or link HERE
Some useful items are attached
Official Announcement and Links to further support articles
UPDATE 1 July 2018.
Preparations are proceeding with the training of Animators in parishes and the drafting of informational resources. Currently it is expected that there will be an introductory session to explain to parishioners the
concepts and procedures for a Plenary Council
the approaches and support to be provided to those wishing to make submissions and
what will happen to those submissions as they feed into the agenda for consideration at the Council
If you have any immediate queries, please approach either Father Manoj or Gerald/Scilla Stack (0410 699 174).